I have helped tens of small businesses acquire domain names and hosting. One of the benefits for a small business to have a domain name and hosting is that they can set up emails with their own domain such as This email address is being protected from spambots. You need JavaScript enabled to view it.. This has many advantages. One of them is that when in business it looks more professional to communicate using a domain based email versus a free email provided by Gmail or Yahoo.
Once your domain based email is set up it is a good idea to regularly modify your password.
This post provides a step-by-step guide on how you can do that in cPanel. cPanel is a graphical web-based control panel that helps to easily manage a hosting account.
Step 1: Login to your email
The url to access your email is www.yourdomain.com/webmail. For instance if your domain name is http://muhire-kavuna.com, then the url to access your email will be http://muhire-kavuna.com/webmail.

Username: full email (This email address is being protected from spambots. You need JavaScript enabled to view it. for instance)
Password: *********


Step2. Select "Change Password"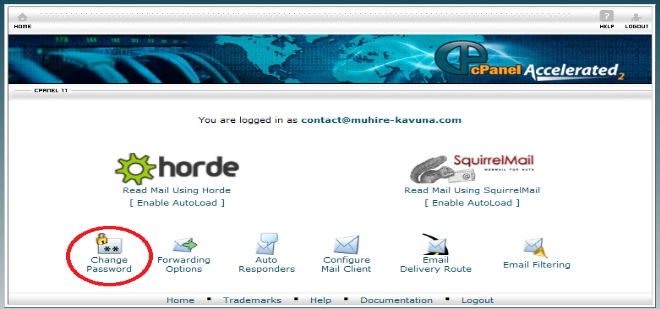 Step3: Change the password

You will need to provide your current password in the first field. In the 2nd and 3rd fields type your new password then click "Change Password" and you are all set.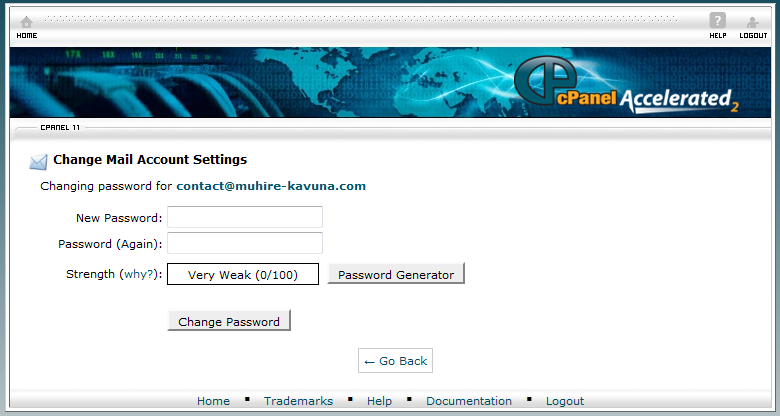 I hope this is helpful.