How to block YouTube ads
If like me you find ads annoying and I bet you do, I have  a good new for you.
Last month I came accross Adblock Plus, a free software that blocks banners, pop-ups and video ads - even on Facebook and YouTube.
Since I installed it, I watch videos on YouTube without being annoyed by ads. 
I wish I could find a version for TV.
In this post I will show how you can install AdsBlock Plus in Firefox and how you can configure it. There is a version for Chrome but this article is focused on Firefox.
How to change your email password in cPanel
I have helped tens of small businesses acquire domain names and hosting. One of the benefits for a small business to have a domain name and hosting is that they can set up emails with their own domain such as This email address is being protected from spambots. You need JavaScript enabled to view it.. This has many advantages. One of them is that when in business it looks more professional to communicate using a domain based email versus a free email provided by Gmail or Yahoo.
Once your domain based email is set up it is a good idea to regularly modify your password.
This post provides a step-by-step guide on how you can do that in cPanel. cPanel is a graphical web-based control panel that helps to easily manage a hosting account.
Step 1: Login to your email
The url to access your email is www.yourdomain.com/webmail. For instance if your domain name is http://muhire-kavuna.com, then the url to access your email will be http://muhire-kavuna.com/webmail.

Username: full email (This email address is being protected from spambots. You need JavaScript enabled to view it. for instance)
Password: *********


Step2. Select "Change Password"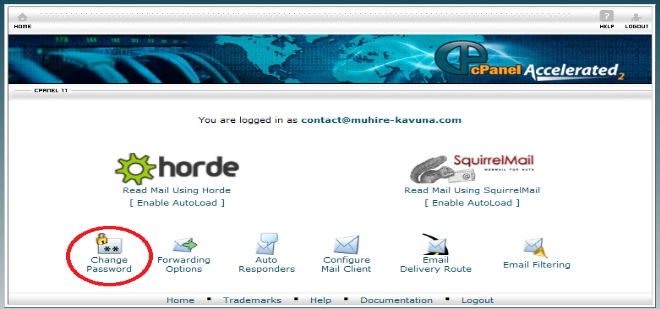 Step3: Change the password

You will need to provide your current password in the first field. In the 2nd and 3rd fields type your new password then click "Change Password" and you are all set.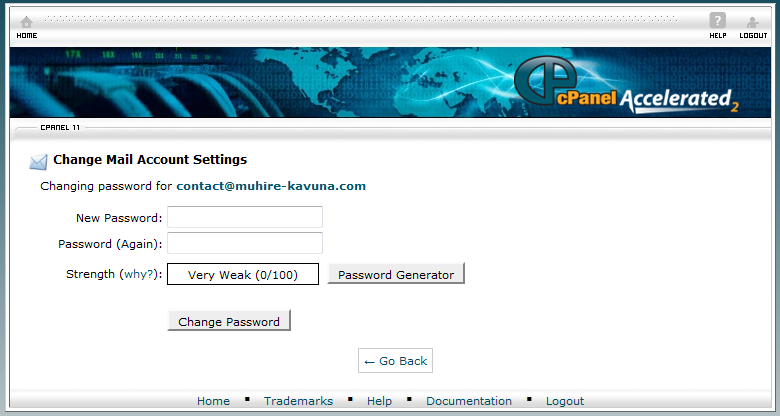 I hope this is helpful.
What to do when you have Internet but you cannot get Firefox to connect to Internet
It sometimes happen that all of a sudden you are unable to connect to Internet using your browser when you're sure your Internet is up. This has happened to a friend. His outlook was working fine and could send and receive emails using outlook. He could even ping but when he tried to access any web page from the browser he would get "Server not found. Firefox can't find the server at ..."
This can have different causes. One of them is proxy settings.
Before you try any complicated solution I suggest you try this fix. I assume you are using Firefox 4.0 or above.
Step1:  Click on Firefox >> Options >> Advanced >> Select the "Network" Tab >> Click on settings as indicated below
Step2: Check "Auto-Detect proxy settings for this network" then try to connect to Internet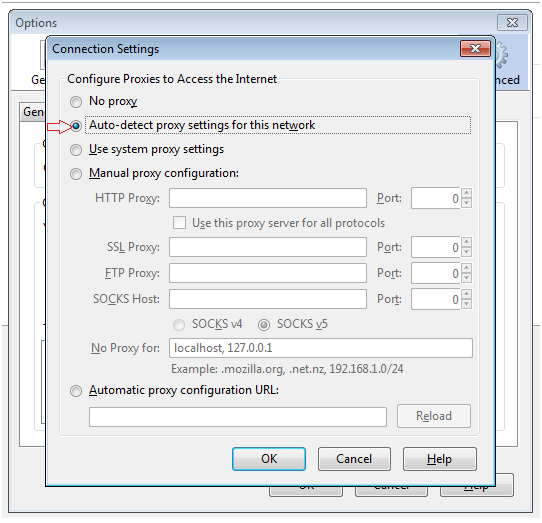 Then, try to connect to Internet. I hope it will help fix your problem.